We agree with our friends at Thrillist:
17 Reasons Every American Should Visit Baltimore
 By JESS MAYHUGH
This has been a particularly tough couple of months for Baltimore — for its people, its businesses, and its reputation. As our underlying, deep-seated issues have been forced to the forefront of the conversation, the hope is that all the unrest will inspire real change.
That said, there is already so much about this city that doesn't need to change and, instead, should be celebrated, not just locally, but across the nation. Here are 17 reasons every American is doing themselves a disservice if they don't make a trip to Baltimore before it's all over.
1. We embrace our flaws
We have our problems and we know it. Some run deep, as we've seen, but some are mundane and that's where we have a little fun. There are even bumper stickers that celebrate our rat population.
2. We do things on the cheap
This has been stated before, but can't be stated enough. Buying houses, sipping cocktails, and enjoying cultural activities are all extremely affordable. Even some of the best ways to get around town are free, like the commuter water taxi and Charm City Circulator.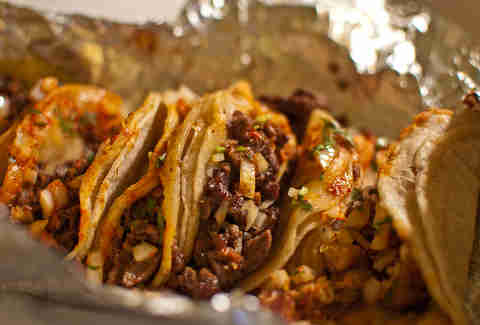 3. Our ethnic food is legit
You won't find much Tex-Mex or Asian fusion here. When you're at 20th and Maryland, it's authentic Korean barbecue; when you're in Upper Fells, there are no gringo tacos; the strong coffee and ouzo flows in Greektown; Little Italy screens Cinema Paradiso outside every summer; and there's a street nicknamed Corned Beef Row in the old Jewish District.
4. The architecture in Mt. Vernon is nothing short of stunning
Architecture nerds can marvel at the city's midtown neighborhood of Mt. Vernon — whether it's the ivy-covered brick rowhomes, the beaux-arts Belvedere Hotel, or the Gothic style of the United Methodist Church that juts into the sky.
 
5. A crab feast is the messiest — and most fun — meal you'll ever have
Maybe tied with a crawfish boil, the classic crab feast is the most fun you'll have eating a crustacean. All it takes is a couple of newspaper sheets, a bushel of hard-shells dumped on top, some knives for cracking into claws, and (of course) a few pitchers of beer.
6. Maryland was once the rye whiskey capital of the country — and we're making a comeback
Little-known fact: in the early 19th century, Maryland was to rye what Kentucky is to bourbon. The state's soft water, mild climate, and fertile farmland made for some of the best rye whiskey in the country. Because Prohibition had to go and ruin everything, our state fell off the map with whiskey production. But now, with changed laws and a strong desire to drink local, distilleries are popping up everywhere, like Lyon and Blackwater on the Eastern Shore and even the Under Armour CEO is opening his own whiskey distillery right here in Baltimore.
7. Water is everywhere
The Chesapeake Bay literally cuts into our city, so waterfront views abound. Whether you're strolling along the harbor, dining at a waterfront restaurant, or watching an outdoor movie on a pier, there are limitless ways to enjoy the water.
 
8. Our events are super weird
Do you want to watch a water ballet performance dedicated to Jeff Goldblum? Well, thanks to Fluid Movement, you can this summer at Baltimore pools. And that's just one of a million examples of the off-beat creativity that flows through this city.
9. Our art is free
Not only do we have the largest free arts festival in the country coming up in July, but there's also amazing street art and murals throughout Station North and the rest of the city. Oh, and our two landmark art museums, the BMA and the Walters? They're free, too.
10. Mountains to the left of us, ocean to the right
It's true. Baltimore has the best of both worlds with the rolling hills of the Appalachian Mountains a couple hours to the West and the crashing waves of the Atlantic Ocean just over the bay to our East.
11. Camden Yards is retro ballpark perfection
You don't even have to be a baseball fan (though it helps!) to appreciate the aesthetic at Oriole Park at Camden Yards — with its hunter green seats, steel trusses, and looming brick warehouse.
 
12. Real, local radio
The best stop on the dial is Towson University's college station WTMD. Not only does it play the best of local and indie artists, but it hosts events like its intimate, in-studio Live Lunch shows and huge free outdoor concerts on the water in Canton.
13. The Avenue in Hampden is a one-stop shop
36th Street in the Northwest Baltimore neighborhood of Hampden is the ideal destination when shopping for antiques, vintage clothing, funky books, or even some unmentionables. Plus, a recent culinary movement has taken hold, so stick around for some of the most innovative restaurants in the city, like frites at Le Garage, fried chicken at The Food Market, or charcuterie at The Other Corner.
14. We're steeped in history
A lot of important things happened in Baltimore, including halting off the British forces during the War of 1812 and Francis Scott Key then penning the national anthem at Ft. McHenry. Not to mention the likes of Frederick Douglass, Billie Holiday, and Edgar Allan Poe all called the city home.
15. Teamwork makes the dream work
Because of Baltimore's small size, what could turn into competition in other cities becomes collaboration here. Bartenders swap shifts and make guest appearances around town, restaurants join forces to work an event, and local purveyors (and even breweries) share collective space to make their products. The end results are amazing pop-ups, events, and parties that are even greater than the sum of their parts.
16. Hidden green spaces
Common images of Baltimore don't include a lot of green space, but there's plenty of it. There are 745 acres, to be precise, in the Northwest Druid Hill Park, which includes a large glass conservatory and our state zoo. There's Southeast Patterson Park with a pool, ice rink, and baseball fields. The city has 15 of these gems in all. Plus, tucked away amidst the stately Guilford mansions is the tulip haven of Sherwood Gardens.
17. Strength in neighborhoods
Of course, all cities have neighborhoods. But the subsections of Baltimore are so clearly defined, each with their own distinct personality and particularly intense pride. It doesn't matter if you're traversing along the cobblestones in Fells Point, gazing at the rainbow-hued houses in Charles Village, driving down the wide avenues of Bolton Hill, perusing a gallery in an old mill in Woodberry, or buying food from one of the busy stalls of Lexington Market — the character of each individual neighborhood shines through.