Our friends at Wealthy Gorilla shared: The 10 Most Expensive Houses in the World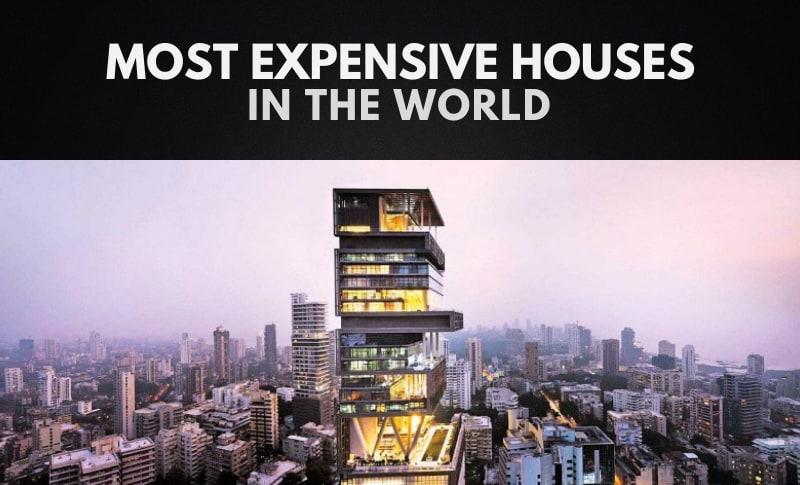 What's the most expensive house in the world?
Well, you're about to find out. But in the meantime, we can tell you that you'll need at least $128 million to own a house on this list.
In this article, we take a look at all kinds of houses & homes, from Penthouses in Monaco to Palaces in England.
So, without further ado, here's a list of the 10 most expensive houses in the world.
The 10 Most Expensive Houses in the World
The list of houses and figures mentioned below have been compiled from various sources around the web, such as Architectural Digest, Veranda & Arch20.
These are the 10 most expensive houses in the world:
10. 18-19 Kensington Gardens – $128 Million
Kicking off our list of the most expensive houses in the world is 18-19 Kensington Gardens.
The behemoth of a house is located on Billionaires Row, which is in one of London's most prestigious areas, Kensington Gardens.
The property is now owned by Indian business magnate and billionaire, Lakshmi Mittal. He is the Chairman & CEO of the worlds largest steel-making company, ArcelorMittal.
The house is roughly 55,000 square-foot and was first built in the 19th century.
It was originally two semi-detached houses, later being converted into a single dwelling by, developer, David Khalili.
It has 12 bedrooms, an indoor pool, Turkish baths, and enough parking spaces for 20 cars.
Before Mr Mittal purchased the property, it was owned by some pretty famous and wealthy families.
For example: the Rothchilds, Free Poles, David Khalili and Bernie Ecclestone.
Mt Mittal can enjoy the peace of mind knowing that his neighbours are Prince William and Kate Middleton.
9. Palazzo di Amore – $195 Million
It's no surprise that one of the most expensive homes in the world can be found in Beverly Hills, California.
Palazzo di Amore is owned by successful real estate entrepreneur, Jeff Green, and is approximately 53-000 square feet.
The Mederteranian-style Villa has 12 bedrooms, 23 bathrooms, numerous swimming pools, tennis courts, waterfalls and theatres, and also has a 27 car garage.
Now, if you're into partying then you'll be interested to know that the house also has a revolving dance floor and ballroom, ready to bus the moves whenever you want.
The house generally looks more like a holiday resort than someone's home, but we can assure you that it is one of the worlds most expensive homes.
8. Ellison Estate – $200 Million
Owned by Larry Ellison, the co-founder of Oracle and one of the worlds richest men, this $200 million estate is the eighth-most expensive house in the world.
Related:
Top 40 Blogs for Entrepreneurs to Follow
Due to the sheer size of the estate, 23-acres to be exact, the property holds more than one dwelling.
Within the compound, you'll find 10 different properties, a tea house and bathhouse, a man-made lake and a Koi pond.
Much of the design of the estate falls under Japanese influence and was modelled after a Japenese Emporers palace.
The house was designed by Paul Driscoll, who was an architect and Zen Buddist teacher.
Throughout the estate grounds, you'll also find some very expensive trees, like cherry blossoms, maples, oaks and redwoods.
7. Four Fairfield Pond – $248 Million
You can't have a list of the most expensive houses in the world and not have one located in New York City.
Four Fairfield Pond is the home of Ira Renner, owner of the Renno Group, a holding investment company in smelting and manufacturing.
The 63-acre home comes equipped with 29 bedrooms, 39 bathrooms, a 91-foot dining room, basketball court, bowling alley, squash courts, tennis courts, and three swimming pools.
To power the mansion, it requires a gigantic amount of electricity, fortunately, the house comes with its very own power plant located on-site.
And, for those of you that love your cars, Four Fairfield Pond has a garage that can hold somewhere in the region of one hundred cars!
6. The Odeon Tower Penthouse – $330 Million

With an estimated value of $330 million, the Odeon Tower Penthouse is right up there with the most expensive houses in the world.
For that kind of money, you'll get a 35,000 square-foot apartment at the very top of one of the most expensive buildings in Monaco.
The Tour Odeon was designed by architect Alexandre Giraldi and developed by Groupe Mazococo.
The penthouse is spread out over several floors and includes its own private elevator.
If that's not enough, then how about a private water slide into a 360-degree view infinity pool.
If you're a bachelor, and you've got the cash, snap this one up when it next comes back on the market, as it's one of the most impressive houses we've ever seen.
5. Les Palais Bulles – $390 Million
Coming in at number five, is Les Palais Bulles, for a cool $390 Million.
Coined the "Bubble Palace", Le Palais Bulle was designed by Hungarian Architect, Antti Lovag and was built somewhere in the region of 1975-1989.
Its nickname comes from a series of round rooms that look out over the Mediterranean sea.
Related:
The 10 Most Expensive Hotels in the World
Lovags inspiration for the design of the property came from mans earliest dwellings; however, this dwelling has been seriously upgraded with some really nice creature comforts.
For example, the property has three swimming pools, numerous gardens and a 500-seat amphitheatre built into the hillside grounds.
Bubble Palace is currently owned by Pierre Cardin, an Italian-born French fashion designer.
The property is mainly used as a holiday home for Pierre, alongside being a spectacular venue for parties and events, such as when Dior showed its cruise collection there at an indoor/outdoor fashion show.
4. Villa Les Cèdres – $450 Million
Occupying the fourth spot on our is Villa Les Cèdres, located in Saint-Jean-Cap-Ferrat, France.
Estimated at $450 million, this home getting close to being worth almost half a billion dollars.
It was first built in 1830 and purchased by King Leopold II of Belgium in 1904.
It was previously considered to be the most expensive house on the market back in 2017; but has since been overtaken by the next three properties on the list.
The property is set on approximately 35 acres of gardens, and its name derives from the many cedar trees located throughout its grounds.
The house itself is roughly 18,000 square feet and consists of 14 bedrooms. It also has an Olympic size swimming pool and a large stable, big enough for 30 horses.
Inside, you'll find crystal chandeliers, gilded woodwork, 19th-century oil paintings and a wood-panelled library holding somewhere in the region of 3,000 books.
3. Villa Leopolda – $750 Million
Villa Leopolda is the third most expensive house in the world.
The villa is owned by the widow, Lily Safra, of Lebanese Brazillian Banker, Edmund Safra.
It's located in the Frances Alps-Maritime department of it's Cote d'Azur Region and occupies approximately 50 acres.
It has 11 bedrooms, 14 bathrooms, a commercial greenhouse, helipad, outdoor kitchen and one of the nicest swimming pools you'll ever see.
The property is famous in itself, as it was the setting for Alfred Hitchcock's 1955 film: To Catch a Thief.
The houses name comes from its original owner; King Leopold II of Belgium and was redesigned in the 1920s by American architect, Ogden Codman Jr.
2. Antilla – $1 Billion
Antilla, the second most expensive house in the world, is located in Mumbai, India and costs a whopping $1 Billion.
It was designed and constructed by Chicago based architecture firm, Perkins & Will, and hospitality design firm, Hirsch Bender Associates.
The property was built for Mukesh Ambani, the Chairman & Managing Director of Reliance Industries Limited, a Fortune Global 500 company, and Indias richest man.
Related:
The Top 15 Most Famous Female Entrepreneurs
The 400,000 square foot building is positioned in Mumbai's Cumballa Hill neighboured and stands at an impressive 27 stories high.
It's also been built to withstand an earthquake of magnitude 8 on the Richter scale.
Inside the house, you find six floors that are purely devoted to car storage, a service station for the cars, a temple, a 50-seat movie theatre and nine elevators.
It also has a health spa, three helipads, a salon, a ballroom and yoga studio, an ice-cream room and multiple cinemas.
So, when all that's said and done, Antilla reportedly requires a staff of at least 600 to keep things running smoothly.
1. Buckingham Palace – $2.9 Billion 
Coming in at number one on the list, and claiming the title of the most expensive house in the world, is Buckingham Palace.
The palace is owned by the British Royal family and is one of a number of lavish properties in their portfolio.
It is located in the city of Westminster, London, and comprises of 775 rooms, 78 bathrooms, 92 offices and 19 staterooms. It's been the official residence of the monarchy since 1873.
In terms of size, the palace checks in at approximately 828,000 square feet and the garden alone is 40 acres.
However, despite its impressive size and taking the title of the most expensive house in the world, it's still not the largest palace in the world.
It's estimated that if the palace were to be put up for sale; it would be somewhere in the region of $2.9 billion, but it's highly unlikely it will ever happen.